Kai and I are kind of struggling with a cold here. Not a big deal but for Kai, it has made him a little more irrational and crazy. For me, it has exhausted me beyond belief. All my symptoms are quite minor because I think my body is working so hard to fight it. I feel like I have no brain in my head, maybe a rock instead? You know when your head feels full and it seems like a good cry would help? I had a mini cry yesterday but it didn't to much to help:) Kai cried hard at daycare when I left yesterday which he never does. He's been clingy with me but also mean at the same time. A couple days ago, I was feeling the baby kick and Kai came and pulled my shirt back down over my belly and hit it. Then he said `I don't want a baby anymore. I'm going to put it back!'. Oh boy. At least last night he was nicer again saying hi to the baby and introducing himself.
Here's a picture of Kai cleaning the spatula after helping me make Moosewood Fudge Brownies...so yummy! We love our new Moosewood cookbook and would recommend it to everyone! Last night we went to look at our first van...a Honda Odyssey. We have been searching craigslist and doing checks on vans etc. Anyway, I was disappointed. I expected it to be in better condition. I wanted the first one that we saw to be `the one'. It is still an option but we are going to look at a Toyota Sienna tonight to compare. It appears to be in excellent condition so I'm hoping that this is it! It is a bit of a pain taking Kai with us but we both want to be there. Also, a lot of them are over the bridge so today we are off to Burnaby...I just know that with our house, we knew right away that this was the house for us. No question. I hope that the same thing happens with a van for us. For some people it may not be a big deal but i have only bought one car in my life and I've had it for 7 years so buying a new vehicle seems like a huge decision to me:)

This is apparently what the baby should look like at 25 weeks. I have noticed that the baby has def. elongated these past few weeks. I think we'll have another long baby! I'm pretty sure its a girl now and I'll just go with that. Obviously a boy would be terrific too and we have his name all ready to go so that would be easy. The girl name is stressing me out and I don't want to spend a billion hours finding a name unless it is a girl, ya know? A good friend of ours had their 2nd by planned C-section this morning so I can't wait to hear how it was. She has the same surgeon/obstetrician that we will have....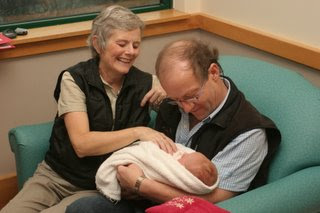 (My mom with the one grandchild she did meet...Ani)
Finally, a friend of ours last his dad suddenly this week. I feel so bad for their family. Loss in any way is difficult whether it is sudden or whether you see your loved one struggle for some time before they pass away. I do have to say that time has helped me a lot but I know with my hormones and the upcoming birth of our baby, it will be difficult again. I remember thinking when I was pregnant with Kai, that God was taking my mom away and giving me Kai in her place. I know this isn't really what He was doing but I just thought that He thought that might help. I didn't want to trade one for the other. If one person mentioned `circle of life' to me, I would've freaked out so good thing no one did. When Kai was born, I remember thinking that I'd rather have my mom than him. I know that is not what He was doing, but its how I felt. Over the months I did fall madly in love with Kai but it was sure hard at first. Loss is hard in so many ways. Holidays and celebrations are different. Reminders are everywhere. The word `mom' comes up a milloion times a day. Different feelings arise when mother like figures are in your life. I miss my mom. She was a true listener which is something I truly miss. No one loved me as deep as she did. Uh oh, tears are coming...maybe it will make my head feel lighter.