All right, folks! The trip that we decided to do about a year ago is now just a week away! In case you are interested in what we are doing, or would like to plan a trip to SE Asia with
YOUR
family, here is some info:
1.
Where are we going and why?
The reason we are doing this trip is two part. We are visiting our friends and we have always wanted to travel internationally with our family. Like, multiple trips. I spent time in Africa and Gary has gone to South America several times (and also spent the first 3 years of his life there!). My hope is to spend a longer period of time in Africa in about 5 years. We would really like to immerse ourselves in a culture and contribute in some way. At this time, with a one year old, a shorter 3 week trip is what will work best for us :)
We are going to the Philippines first for two weeks. We will be spending time with our friends, Jen and Andrey, who live and work there. They live in Cebu and the three places we will be going in the Philippines are: Cebu, Moalboal and Bohol.
In Moalboal, we will be staying in a treehouse!
Below, you can see how close Bohol is to Cebu. It takes about 2 hours by speedboat to get there. We will be going to the south end by Alona Beach.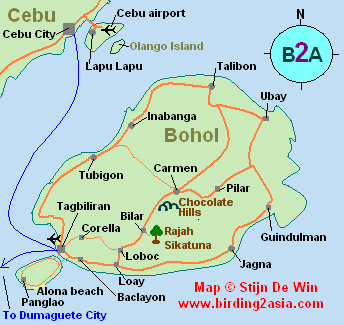 After two weeks in the Philippines, we will fly to Bangkok to stay there for one night and then take another short flight to Chiang Mai. We will be in Chiang Mai for one whole week. It is in Northern Thailand and is not a beach location but hopefully we'll be `beached' out from the Philippines and ready to eat a whole lot of Thai food, check out the Elephant Conservation (I hope it's `elephant friendly'), enjoy a massage and just explore!
2. How long does it take to get there?
The trip to Manila is 16 hours (includes a 1.5 hour stopover in Taiwan). We then have another one hour flight to Cebu. The hardest part is that we leave at 2 am. It was either that or have a 30 hour trip. I went for the shorter trip leaving at a bad time. Not sure if that was wise. I'll let you know :) The flight from the Philippines to Thailand is about 3 hours I think.
3. What sort of preparation was needed?
a. Flights: We booked our flights about 6 months ago. I used orbitz (through cheapoair I believe?) for the international flights and hopefully that was a wise decision, we will see! For the flights throughout the Philippines and to Thailand we used Cebu Pacific and within Thailand we used Thai Airways. We didn't always go for the cheapest options, we went for convenience and shortest flights for the most part.
b. Hotels/guest houses: We booked hotels and guest houses based on recommendations from our friends Jen and Andrey who live there, our Lonely Planet guidebook, and for Bangkok, the closest to the airport with a breakfast included. We used Trip Advisor to confirm whether they were recommended or not. They range in price from about $25-$100/night. We went for air conditioning and enough room for 5 people which is not easy there! We used agoda.com for booking when we could.
c. Immunizations: This is where I hemmed and hawed a lot. Did I want to go through a travel clinic? We checked to see what other people got for their travels to the two locations that we are going to and ended up just going through our doctor to get the vaccinations and then my sister, a public health nurse, injected us :) We just got all of Koen and Nya's immunizations up to date and then we all had Hep A vaccinations. We will get them their boosters in 6 months so that they are covered for life. This saved us $100's of dollars. I also bought a lot of medicine to take along. I know you can get a lot there but just in case...
d. Passports: Nya needed one and Gary needed his updated.
e. Travel playpen: we got the Phil and Ted's Travel Crib. Second hand. We used it over Spring Break and it worked well.
f. Packing: If it was just Gary and I, we would need just one suitcase. With the 3 kids, it adds a lot. We are up to 3 suitcases and a small backpack for carry on each. I'm tempted to add another suitcase but we will see....The travel playpen is in one of the suitcases. We are also taking diapers etc which I know you can get there but I'd rather just bring them if we have them. Each of the kids will have a backpack as their carry on with treats and toys and books and a change of clothes :)
We are also taking a small stroller along but I'm hoping to use the Ergo most of the time for Nya.
g. Clothing: A big concern of mine is being cool but also protecting our kids from the sun. The boy all have their swim shirts and I finally found Nya an affordable long sleeved bathing suit. No itsy bitsy bikini for her! Our super white kids need to be covered:) They will also be wearing dorky hats. Also, I had to figure out my bathing suit situation. Apparently those extra 15 lbs aren't leaving on their own so I bought a couple of new bathing suits off of Land's End.
h. Mosquitoes: I don't really know how bad they'll be but we're trying a few different things. We got some bracelets, the clip on repellent version etc. We'll see!
4. What's the weather like there now?
Both Cebu and Chiang Mai are very similar right now. I'm sooooo glad it's in the low 30's. I can't do much higher than that :)
5. How much does a trip like that cost?
For the three weeks, this is the general cost of everything:
a. Flights and transportation (8 different planes): $8,000
b. Accommodations and food: $1,000.00
c. Extras: tours/activities/immunizations/passports etc: $1,000.00
TOTAL: $10,000
6. What camera(s) are we taking?
We will be taking one of our 5D's (not the Mark III) and two lenses. The 50mm and 24-70mm. We will also be taking the GoPro. We are also taking our travel laptop for some editing and emailing etc. Gary is trying to convince me to get a tablet before we go...
My plan is to blog once/week so we will see! We do have wifi in each place but I'm not sure how good it will be. We will see!
And to any burglar thinking of coming to steal our Mark III or anything fun, it won't be here AND we'll have people house sitting :) I always think about that when blogging, that a `bad guy' is reading this.
7. What are we excited about?
Nya: being outside and being around people. And water. She loves the water!!!
Koen: everything. Especially mangoes.
Kai: Pad Thai, snorkeling, treehouse hotel
Gary: a new culture and seeing friends and changing up our routine
Louise: seeing my kids explore a new culture, good friends, good food, and beautiful sights! I do have my diving license but won't be doing any diving...I think snorkeling will do just fine.
8. What are we nervous about?
Nya: I don't think anything makes her nervous but I have a feeling she won't like being restrained in any way on the airplane!!
Koen: riding an elephant
Kai: riding an elephant
Gary: that my wife won't survive the plane ride (he jokes), but really just all transportation.
Louise: being exhausted taking care of the kids and not having any down time. Oh please let them sleep so I can sleep!!! And safety.
So there you have it! I think I covered most things. Let me know if you have any questions, tips or words of advice :)
Go Team Chapman!
Love, Louise